Elk Hunts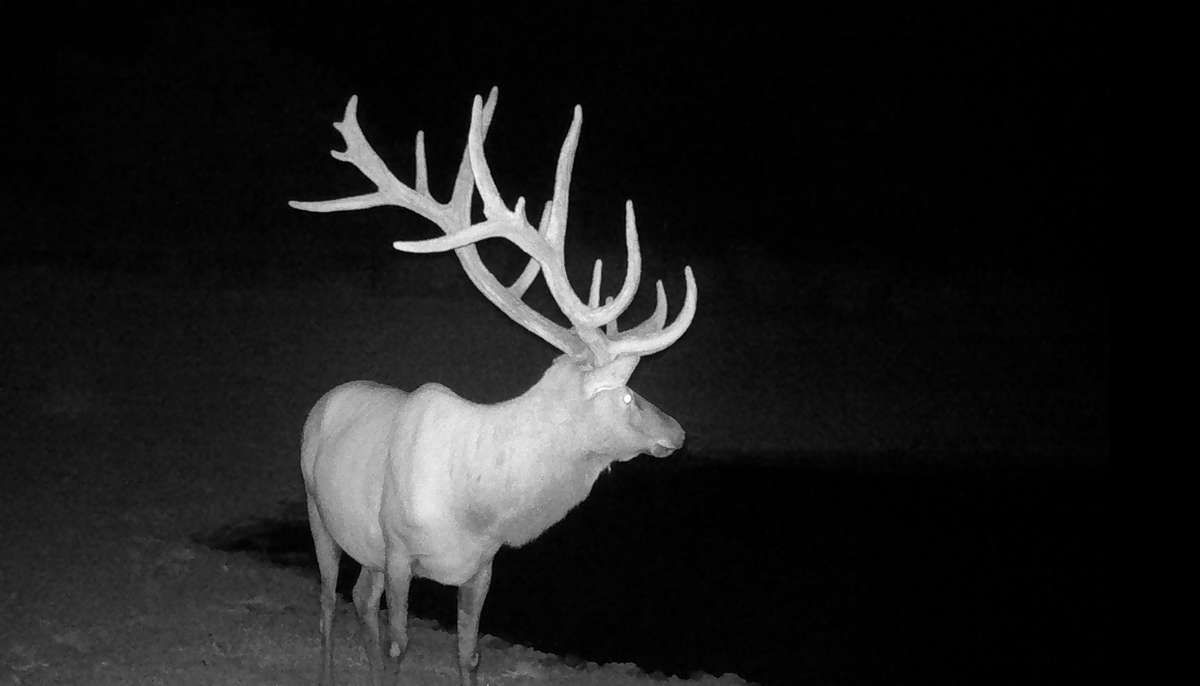 Our Hunts: We set up camp right on whichever hunt unit our client will be hunting in to provide as ample hunting field time as possible and to limit travel time back to the camp duration of the hunt. We provide a 44" Fifth Wheel as our base camp, Wall Canvas Tent as Dining Hall, and utilize Jeep and or four-wheel drive Vehicles for field transportation. We will pre-scout for Elk before our clients arrive to get a good idea of which Bulls to go after and come up with a game plan when our client gets to our base camp which is the day before the client's hunt starts. Most hunts are done by getting to a vantage point to glass up bulls then going after a bull we decide on and start our spot and stalk. Terrains can be anything from high elevation Mountains with ponderosa pines, oak brush and aspens slopes, to lower country with cedar and sage flats depending on the year of the hunt.
*Fully Outfitted Hunts: We offer for all our hunts a five-day fully Outfitted Hunt which includes: All Meals, Accommodation, Field Transportation and assist with Game Care. Call for Price Details:
*We have Three Types of Elk Hunts:
1.

Trophy Elk Hunts

(Draw Tags)
These are done in our exclusive Trophy Units here on the Navajo Nation. The Elk heard Genetics has produced some great Quality Bulls in the upper range of 370" on up and at times over 400". The habitat in our Trophy Units are well managed which has strict access into the units with really good water and feed for awesome antler growth.
*Trophy Tags that were not repurchased come available for new hunters to apply for in a draw.
* Very easy to apply: Fill out two forms 1. Hunt Application form 2. Credit Card Authorization Form. (Only the Application Processing fee will be assessed of 25.00 when the application form is received. Full Trophy Tag fee gets assessed only if you are drawn a tag. You do not pay the full Tag Fee upfront.
September 10 - 25: Archery Trophy Elk (Draw)
September 28 - Oct. 02: Rifle Trophy Elk (Draw)
January 1-9: Late Season Rifle Trophy Elk (Draw)
2.

Auction Tags

(Trophy & General Hunt Tags)
Trophy Elk Muzzleloader Tag: Oct. 01 - 15 and January 01 - February 15: in units 1-8, 11-14 and 16A Trophy Unit.
Trophy Elk Rifle Tag: September 01 - October 15 and January 01 - February. All Hunt Units, Rez Wide,
3.

General Elk Hunt

(Draw Tags)
Huge list to choose from. Call for Details.
We offer a variety level of hunt throughout the hunting season and General Hunt Units is just one of those to choose from. Four hunters can apply on the same application for the same hunt, same area and dates. This is great for a family, group of friends or corporate group type of hunt where multiple hunters can come and enjoy the Navajo Nation style of Big Game or Small Game Hunting.