Navajo Outdoors Testimonials
Here's what a few of our customers have had to say about us.
Have a testimonial of your own to share?
Send a Testimonial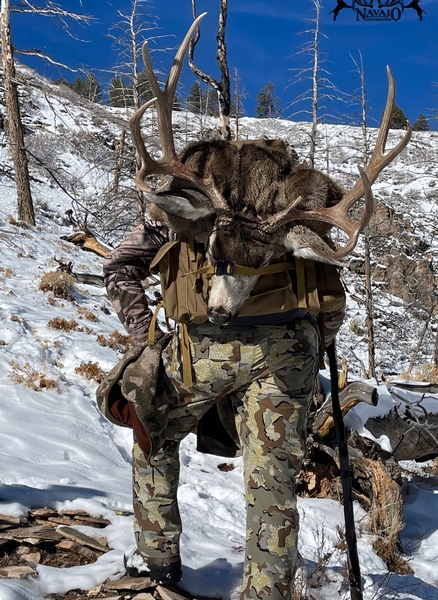 Peter Paragon
Winter of 2021 - New York
Hunter - Peter Paragon For the past 3 plus years I have been talking with Vern Badoni about Big Bugling Bulls on the Navajo, sharing photos and game planning a hunt. Unfortunately, these tags are hard to come by but I have secured one thru the AUCTION process. Spring of 2021, Vern convinced me to apply for a Mule Deer tag in one of the Trophy Units. I did and I drew it, game on. Vern scouted relentlessly throughout the summer and early fall. When I say scout for Vern, these are all day trips, to leave Kirtland, get to cameras. As the intel came in Vern had 4 shooters located for me, the question would be, will they be in the area once the hunt started. These Bucks were all frame 8's or as they say out west 4X4's, couple of them had some kickers as well. As the Rut heated up late November these bucks were on their feet & Vern was sharing intel. You can tell Vern is passionate about about what he does. I have been fortunate enough to have gone on several Guide Hunts, through the years in different parts of the West and Canada this was definitely a Quality Hunt, not because I filled by tag, but for me to see how hard Vern worked for me to be successful, trust me all outfitters don't always do their homework!!!! Accomodations were great, stayed on the Mounation, that we hunted on, stayed in a nice travel trailer, saved us 4 plus hrs. of travel each day. Unfortunately for me, I gave my tag up for 2022, because I had a previous hunt booked, or I would be back again this year. If Cat Hunting is on your bucket list, Vern has a great group of dogs & there's no CAT shortage on the NAVAJO either, tags are easy to obtain, simple application & the season is nice and long. Looking forward to an exciting Trophy Elk Hunt this fall and I will be applying for that Trophy Mule Deer Tag again!!! Feel free to contact me @ 315-382-1044 if you have any questions about NAVAJO OUTDOORS. Here's to your success on the Mountain. Peter Para P. Paragon President Paragon Environmental Construction, Inc.
Hunters
waterfowl
Testimonials
I would like to thank you for the great hunt on the San Juan River. Larry Crawford, Niles Bruno & I thoroughly enjoyed our Navajo Outdoors hunt with you. We were delighted to limit out on on ducks the last day of your season, even though the river was more slush ice than water. I can assure you that at our age, We never would have waded to your islands without you leading us. You have some very scenic & interesting braided river settings that were quite productive. The whole operation was very professional and all your equipment & decoys were high end & well maintained.
I would definitely recommend Vernon Badoni's Navajo Outdoors to anyone looking for a fun, interesting productive waterfowl hunt.
Tom Brossia
Past State Chairman
Colorado Ducks Unlimited
—————————————————————————————————————————————————
I cannot say enough about the waterfowl hunting Navajo Outdoors provides. The fields other private land leased are first class, and provide more shooting opportunities than any public land I have hunted on. The guides, decoys, dogs, and equipment are all first class. Thank you again to Navajo Outdoors for the great hunts!
–Robert Garcia,
Albuquerque, NM
—————————————————————————————————————————————————
The crew at Navajo Outdoors is top notch. They always go above and beyond to provide a great hunt. The areas hunted are full of birds, and are extremely well managed. My shoulder is usually sore for days after each of our hunts, due to all the action. Navajo Outdoors has secured itself a client for life!
–Raymond Garcia
Santa Fe, New Mexico
—————————————————————————————————————————————————
"My son and I had a great two days with you. The number of geese on the NAPI fields was phenomenal. We have been fortunate to hunt a number of places but your goose hunt is now at the top of our list. The only time I was not pleased was when my son shot my geese, but he is prone to do that kind of thing to his father as part of our friendly family competition. He says he is just ensuring that my geese hit the ground and don't fly away. We both really enjoyed jump shooting ducks and geese in the afternoon; it was an unusual hunting opportunity and we loved it. We'll be back!"
– David Marsh, President
Albuquerque Chapter
Ducks Unlimited
_______________________________________________________________________________________________________________________
"I am happy to report an excellent hunting experience with Vernon at Navajo Outdoors. He and his staff are very friendly and professional and have first class gear. I have never been on a hunting trip where the guide works so hard to make sure everybody limits out. There were five shooters in our group and we all limited out on geese by 11:00am. Even after a successful hunt on keys so early in the morning he was still wanting to bring us down to the river to hunt ducks. I brought my family on this hunting and it was worth every penny and we made some wonderful memories for a lifetime. I recommend anybody to go hunting with Vern."
– Kevin Forsman
Flagstaff, Arizona
Send us a Testimonial
To our past clients: We appreciate your comments and if you would, fill out the form with comments and a photo about your experience at Navajo Outdoors. Fields marked with * are required. Please enter the Name field how you want your name to read on our website (Examples: John Doe, J. Doe, John D., John Doe Corporation).